Rogue Tory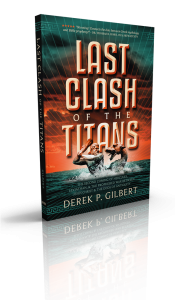 Gilbert, Derek P. The Last Clash of the Titans. Defender Publishing, 2018.
Derek Gilbert's unique skill is in summarizing the very difficulty academic scholarship and placing it in a template that a) makes sense for the reader and b) puts the reader on an eschatological "high alert."
Study notes here: https://www.derekpgilbert.com/2018/08/18/last-clash-of-the-titans/
Idols were lifeless. That's the point. They functioned, rather, as an antenna.
Chapter 1: Background
Gilbert quickly goes over the Nephilim thesis, including the faulty reading of Genesis 6. If this merely refers to the line of Seth, and not to semi-divine beings, then why: a) did they produce giants and b) why were all the Sethite boys good and the Cainite girls bad? c) how did good boys and bad girls produce giants? (Gilbert loc. 144).
Further, as Gilbert notes, the two surviving sons are mentioned "nowhere in Genesis 6, so reading Seth and Cain into an interpretation"…
View original post 1,038 more words